View a complete listing of 2013 Delaware State Dental Society events in celebration of our 150th Anniversary in the Calendar of Festivities below. Click on any upcoming event to register online.
Secure Online Registration | Brochure/Mail-in Registration Form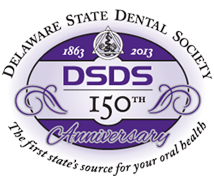 DSDS 150th Anniversary
Committee Members
Dr. Paul Christian
Dr. Glen Goleburn
Dr. Connie Greeley
Dr. Ali Husain
Dr. David Isaacs
Mrs. Melissa Jones
Dr. Robert Kacmarcik
Dr. Joseph Kelly
Dr. Curtis Leciejewski
Dr. Bruce Matthews
Dr. Nadine Vaughan
Dr. Sharon Welsh

THANK YOU to all our 150th Anniversary Sponsors
See page 8 for a complete listing.