< 2023 Topic Previews / Continuing Education Series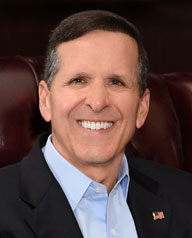 The Future of Dental Practice Excellence: Proven Systems to Increase Production Every Year
2023 DSDS ANNUAL SESSION
Dr. Roger Levin
Friday, May 12, 2023
8:30 AM – 4:00 PM
Rehoboth Beach Country Club, Rehoboth Beach, DE
Includes Continental Breakfast - 7:30 AM - 8:30 AM;
and Buffet Lunch - 12:00 PM
Practice success has been, and always will be about documented, proven, step-by-step systems. It's that simple.
Systems are the pathway to ensuring excellent production, retaining a highly trained team, training new team members 100% faster and maintaining a loyal and ever-increasing patient base. But systems need to change to meet today's challenges and allow you to reach the next level. They now need to be updated faster than ever before. This practical seminar will provide pearls for the pathway to future practice excellence. Join Dr. Levin for an insightful, up-to-the-minute look at what is and isn't working in today's most successful dental practices.
During this presentation you will learn how to build a high performing practice and achieve high levels of production in an enjoyable and low stress environment. Dr. Roger Levin will explain the trends affecting every dental practice right now and their future impact. He will also provide the breakthrough strategies used by the highest producing practices in the country to grow production while lowering stress - all aimed at building future practice success!
Learn the high-powered proven systems that increase production and generate more income for practice owners. Don't waste years waiting to implement the right high-powered systems into your practice - systems that are essential for the team to perform at the highest level. Dr. Levin will share the most advanced methods for staying ahead of the competition and transforming your practice into a production powerhouse. These new strategies, systems and behaviors are critically important for practices to increase production and maintain future success.
Learning Objectives
Learn the 17 principles of Top 10% practices, and the solutions and strategies you can use to take your practice to the next level.
Identify the documented, proven, step-by-step systems that will immediately improve practice performance and production to position the practice for a strong future.
Understand how those systems such as scheduling, doctor production, hygiene productivity, case presentation, overhead control and other key practice success factors need to be upgraded to achieve superior performance.
Identify the 12 Key Targets that every practice should meet to increase practice success under any economic condition.
About the Speaker
Dr. Roger P. Levin is the CEO of Levin Group, a leading dental management consulting firm. Founded in 1985, Levin Group has worked with over 30,000 clients. Dr. Levin is one of the most sought-after educators in dentistry and is a leading authority on dental practice success and sustainable growth.
Through extensive research and cutting-edge innovation, Dr. Levin is a recognized expert on propelling practices into the top 10%. He has authored over 65 books and over 4,000 articles on dental practice management and marketing.
Dr. Levin has served on the editorial board of prominent dental publications and been named as one of the "Leaders in Dentistry" by Dentistry Today magazine for the last 16 years. He was recently named one of the "32 Most Influential People in Dentistry" by Incisal Edge magazine and voted Best Dental Consultant by the readers of Drbicuspid.com. He has been interviewed for the Wall Street Journal, New York Times, and Time magazine and is the creator of the Levin Group Tip of the Day which reaches over 30,000 dental professionals.

Full Day In-Person


$315/$335
DSDS/ADA Member Price
Before/After Apr. 25

$415/$435
Non-ADA Member Price
Before/After Apr. 25

$175/$195
Staff Member Price
Before/After Apr. 25

Apr. 25
Registration Deadline


Presented by
DELAWARE STATE DENTAL SOCIETY