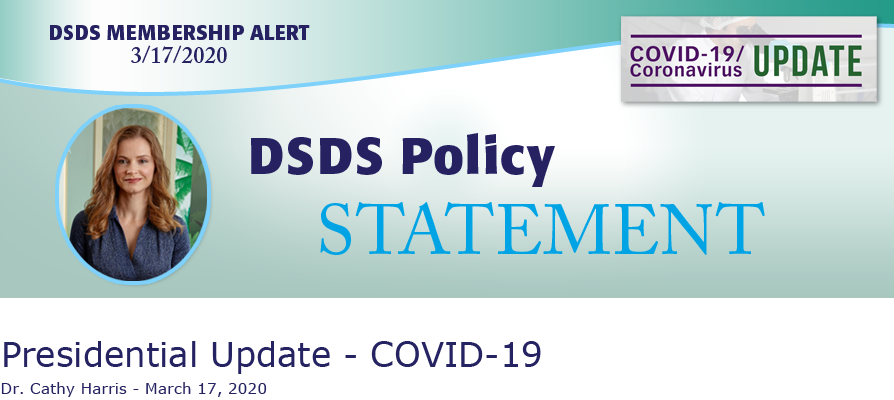 Members of the DSDS Executive Council held a conference call last night, and we were fortunate to have Dr. Karyl T. Rattay, the Director of Delaware's Division of Public Health, on the call. She provided much needed information about the current coronavirus COVID-19 situation in Delaware. There are 8 confirmed cases in Delaware as of last night, with approximately 1,200 pending tests. Despite the State of Emergency declared by the Governor, Dr. Rattay stated that we are not at a community spread level here in Delaware at this time. She does not feel it is necessary for dentists to limit their practices to emergency care only, yet she is concerned about our health and safety as practitioners, as well as that of our staff. She strongly recommends the use of N95 masks, and she will be providing us with a link to a State website that will allow us to order these masks. We will pass that information on to you as soon as we receive it.
The landscape of the coronavirus COVID-19 spread varies drastically across the country. In addition, information regarding the virus is constantly evolving and recommendations are changing almost daily. Broad recommendations by national organizations, like the ADA, make it difficult for local societies, like the DSDS, to make decisions that more accurately reflect their local situations. Therefore, based on current ADA recommendations and after careful consideration of information provided by local State authorities, the DSDS has made the following recommendations:
It is recommended that all Delaware dentists limit their practices to emergency care only until March 27, 2020. Before March 27, a decision by the DSDS will be made to extend or change the recommendations based on the current local spread levels and recommendations from local State authorities. The DSDS is working in concert with the State Board of Dentistry, and we will make adjustments to our recommendations accordingly.
Our council felt that it was essential that our members provide emergency dental services for our patients so that they do not seek care in our hospital emergency departments and unnecessarily burden our healthcare system. As we continue to treat patients on an emergency basis, we ask that you still adhere to the previously discussed ADA recommendations:
Screen patients for international travel, signs or symptoms of infection when you update their medical histories.
Include temperature readings as part of your routine assessment of the patient prior to performing dental procedures.
Make sure the personal protective equipment you are using is appropriate for the procedures performed.
Use a rubber dam whenever possible to decrease possible exposure to infectious agents.
Use high speed evacuation for all dental procedures producing an aerosol.
Autoclave your handpieces after each patient.
Have your patient rinse with 1% hydrogen peroxide before each appointment. Coronavirus is vulnerable to oxidation; this will reduce the salivary load of oral microbes.
Clean and disinfect public areas frequently, including door handles, chairs, and bathrooms.
In addition, please refer to the following resources for guidance and please continue to visit the CDC, DPH and ADA websites regularly for updates.
Sincerely,





Cathy Harris, DMD
DSDS President